Rapidly deploying and exercising Special Operations Forces in the Arctic
THE WATCH STAFF
Navy SEALs aboard black-rubber raiding boats skim across a choppy sea off Alaska under the watchful eye of an F-22 Raptor. Later, they parachute from high above their target zone near an isolated coastal town. The commandos conduct reconnaissance in the fog using drones equipped with the latest in artificial-intelligence technology. They operate from an expeditionary camp of Quonset huts supported by heavy-lift CH-47 Chinook helicopters from the Alaska National Guard.
This latest chapter in an ongoing series of exercises known as Operation Noble Defender fulfilled its purpose once again — demonstrating the ability of U.S. Northern Command (USNORTHCOM) and the binational North American Aerospace Defense Command (NORAD) to defend Canada and the United States against threats. The mid-September operation featured West Coast-based Naval Special Warfare units testing capabilities, including military freefall and personnel recovery. It also showed how the U.S. and its allies can count on Special Operations Forces (SOF) to strengthen a vital layer in the defense of the homeland — rapid deployment in the face of multiple and complex threats.
These commandos, having honed their skills during more than 20 years of combat in the Middle East, are turning their attention now to operating at Arctic latitudes. They got a taste of the unique demands of the region when a devastating storm hit during Operation Noble Defender. The SEALs continued training through the rough seas of Typhoon Merbok as it produced waves higher than any seen in the region for seven decades. They even paused to help recovery efforts in Nome and other storm-damaged communities along the Alaska coastline.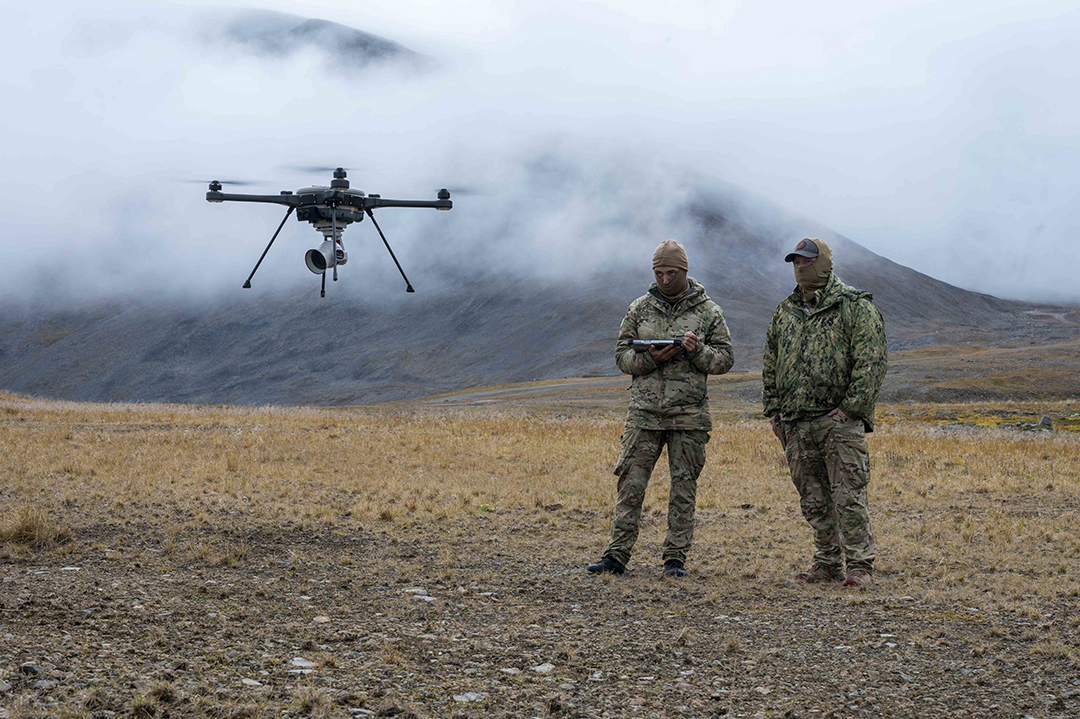 Personnel from Naval Special Warfare Command operate a SkyRaider drone on isolated St. Lawrence Island in Alaska during Operation Noble Defender in September 2022. SPC. 1st CLASS ALEX SMEDEGARD/U.S. NAVY
Their operation was centered on St. Lawrence Island, less than 40 miles from the Russian coast and home to about 1,400 largely indigenous Alaskans. The island is at the southern approach to the Bering Strait, the narrow body of water separating Russia from Alaska and the only maritime link between the northern Pacific and the Arctic Ocean. The strategic importance of the Arctic is growing as the melting of sea ice opens potential new shipping routes there and as Russia, despite international condemnation, dramatically expands its military presence along its 24,000 kilometers of Arctic coastline.
Even as Operation Noble Defender was underway, nuclear-powered Russian submarines were firing anti-ship cruise missiles at targets 400 kilometers away during a military exercise in the Chukchi Sea north of the Bering Strait. The exercise was dubbed Umka-22, a name for polar bear in Russian. Russia has indicated it hopes to use the Bering Strait as a routine passageway to connect its Arctic naval fleet, based near the Russian border with Norway, and its Pacific fleet with headquarters on the Kamchatka Peninsula and in Vladivostok. At its narrowest point, the Bering Strait is little more than 80 kilometers. Two Russian ballistic submarines made the Bering Strait passage following Umka-22. Russia has continued conducting military exercises in the Arctic region even as most of the nation's land forces fight its war in Ukraine.
"Russia's geographic proximity to the Arctic makes it the most acute security concern to North America," U.S. Air Force Gen. Glen D. VanHerck, commander of USNORTHCOM and NORAD, wrote in an Oct. 3, 2022, article for the service's Journal of Indo-Pacific Affairs. "Russia's irresponsible behavior in Ukraine highlights why all Arctic nations should be concerned with Russian activities in the region."
For two years, through seven Operation Noble Defender exercises, the U.S. and its allies have been answering concerns about threats from adversaries by developing and demonstrating the air-land-sea capabilities necessary for a holistic, 360-degree defense of North America. The September operation was the latest example, conducted largely at high altitudes over sparsely populated Arctic and Pacific areas including St. Lawrence Island, Inuvik, Yellowknife, King Salmon, Ketchikan and west of Vancouver. All three NORAD regions sent military aircraft to carry out defensive maneuvers along the northern and western approaches to the continent while USNORTHCOM ground forces demonstrated their abilities to operate in the austere Arctic environment. The exercise involved military personnel and equipment from Alberta, Canada; Washington; Oregon; Colorado; and Joint Base Elmendorf-Richardson and Eielson Air Force Base in Alaska. (Pictured: Operation Noble Guard in September 2022 featured free fall jumps over the town of Svoorsgard on isolated St. Lawrence Island in Alaska. The operation involved personnel from a West Coast-based Naval Special Warfare command.)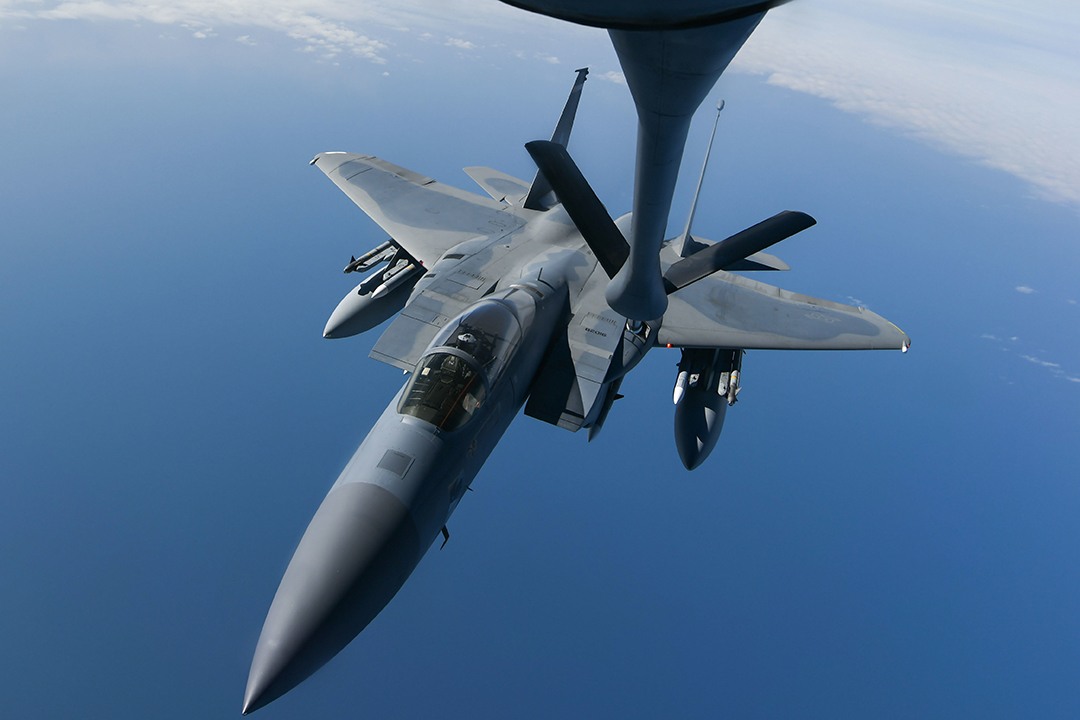 Over Canada's Pacific Coast, an Air Force F-15C Eagle from the Portland Air National Guard undergoes refueling beneath a KC-135 Stratotanker from Fairchild Air Force Base in Washington during Operation Noble Defender. AIRMAN 1st CLASS JENNA A. BOND/U.S. AIR FORCE
Most Operation Noble Defender exercises have centered in Alaska. In Alaska alone, the U.S. military has 27,000 personnel, active duty as well as guard members and reservists. In a signal of the Arctic region's importance to homeland defense, Alaska hosts a number of cold-weather military exercises by the U.S. and its allies, including the large-scale Joint Pacific Multinational Readiness Center Exercise near Fort Greely in March 2022, involving more than 8,000 Soldiers.
Conducting military exercises with allies in the northern latitudes "exhibits credible deterrence," VanHerck wrote. "Campaigning requires close work with regional allies, partners, organizations, and institutions in the pursuit of shared objectives. We are stronger together, and our competitors know they do not benefit from the same relationships."